The Afghan MP Negotiating Peace With The Taliban
Bhanupriya Rao
August 11, 2020
Fawzia Koofi (45), the Member of Parliament from Afghanistan, has survived several assassination attempts by the Taliban.
"The Taliban dislike women holding such powerful positions in government as I do, and they dislike my public criticisms even more. They often try to kill me", she writes in her memoir, ' The Favoured Daughter'.
Despite this, she is negotiating for peace, as one of the only two women in the pan Afghan delegation, in talks with the hardline Islamic group for the future of Afghanistan.
Throughout her life, Fawzia Koofi, has beaten the odds.
As a newborn, she survived after being left in the sun for several hours by her mother, as her conservative family which had 19 daughters from her father's two wives, did not want another daughter. As a medical student at the top of her class, she was forced to quit studies when the Taliban took over Afghanistan in the 1990s. Soon after the fall of the Taliban regime, Koofi joined politics.
33 years after the conflict, when Afghanistan established its first elected democratic parliament in 2005, Koofi was elected to the  Wolesi Jirga-the lower house of the Afghan National Assembly from Badakhshan province in Northern Afghanistan. She was elected as the first female Vice President of the National Assembly in the same year.
Fawzia Koofi  could have been the first female president of Afghanistan. However, she was forced to drop out of the contest for the highest office in the country after the Election Commission changed the registration date, which disqualified her for being under the age of 40.
A passionate women's rights activist, Fawzia Koofi started the 'Back to School Campaign' in Afghanistan for ensuring the right to education for girls after the fall of the Taliban. Since then, she has been a tireless campaigner for the freedoms and future for the women and girls in Afghanistan.
In 2019, Koofi started her own political party- "Movement Of Change For Afghanistan"- where sixty percent of leadership positions are held by women.
In a two part interview with BehanBox and Women for Politics, Fawzia Koofi talks about her journey into politics, the peace negotiations with the Taliban and her agenda for the women and girls and the future of Afghanistan.
This is part of a new series titled "Women, Power and Politics", where we bring you conversations with radical and progressive women leaders from across the world. The first edition of the series features women political leaders from the South Asia region.
Personal stories are a large part of why one joins politics. For someone like you, who has seen their country go through several stages of transition, tell us your story of growing up in Afghanistan during different phases- from the Soviet occupation, the Taliban years and now.
I was a child when Afghanistan was occupied by the Soviet Union. When the civil war began, I was a teenager. I was a young girl when the Taliban regime came.  I was in the beginning of my political career when the post Taliban democracy started. So, my life and career, as well as that of so many women in Afghanistan, is an example of the turbulent life of the country.
I come from a political family. My father was a four time Member of Parliament until he was killed by the Mujahideen. He did a lot of social work. He actually set up the first school in our village for women.  But he never allowed my sisters and I to go to school because he thought he would lose political support in a  conservative society.
It was only after my father was killed and we had to flee our village to come to Kabul that we had the chance to go to school. In fact, I was the first girl in the family to attend school. Eventually my sisters, after they were married, attended school. They graduated and pursued higher education from the university.
[ editor's note: In her memoir, 'The Favored Daughter', Koofi recounts that it was her mother who encouraged her to go to school even though she worried about her safety. 'If the class or school makes you president, I don't want you to be president. I want you to be alive.' ]
I never wanted to be a politician at first. I was studying for a degree in medicine. But, the Taliban years changed everything for women. Our freedoms were gone and women were particularly discriminated against. I always thought I had to change this. So, when the first democratic parliament was established in 2005,  33 years after the conflict, I decided to run for office.
After getting elected, I ran for the leadership of the parliament. I was the first woman in our history to be elected as the Vice President of the Parliament.
In Afghanistan, 25% of the seats are reserved for women which makes it  one of the better ranking parliaments for women's reperesntation in the world.  Though I was elected from a general seat, the quota is helpful.  I hope India will also legislate a 'quota' in Parliament as it already exists in  Panchayats. This may hurt many male egos but I am going to say it anyways.
At a more personal level, how did you, as a woman, negotiate your personal and political space during the Taliban years?
Those were difficult years because everyone suffered. Women were being whipped by the Taliban on the streets if their outlook did not fit theirs. They were beaten up. There was no  rule of law and procedures for justice. They would arrest anyone without any trials.
Ten days into our marriage, the Taliban arrested my husband. This was the first time I was facing these kinds of challenges, after being a top student in a medical university. I had to run between different offices, including the Intelligence Department, to get him released.
I would argue with the head of prison about why they arrested him for holding his own political beliefs. It was not a normal thing for a woman to argue  with the Taliban especially in a burqa and nail polish on my hands. The guy probably wanted to throw a stone to silence me as he was so angry. I left before he could do that. But I saw another woman being hit with a stone  in front of my own eyes. Finally the Taliban released my husband.
It is not an experience any woman would want to go through, no matter where you live, because they interfered with these basic freedoms of women- about what you wear, who you meet, the colour of your socks and burqa.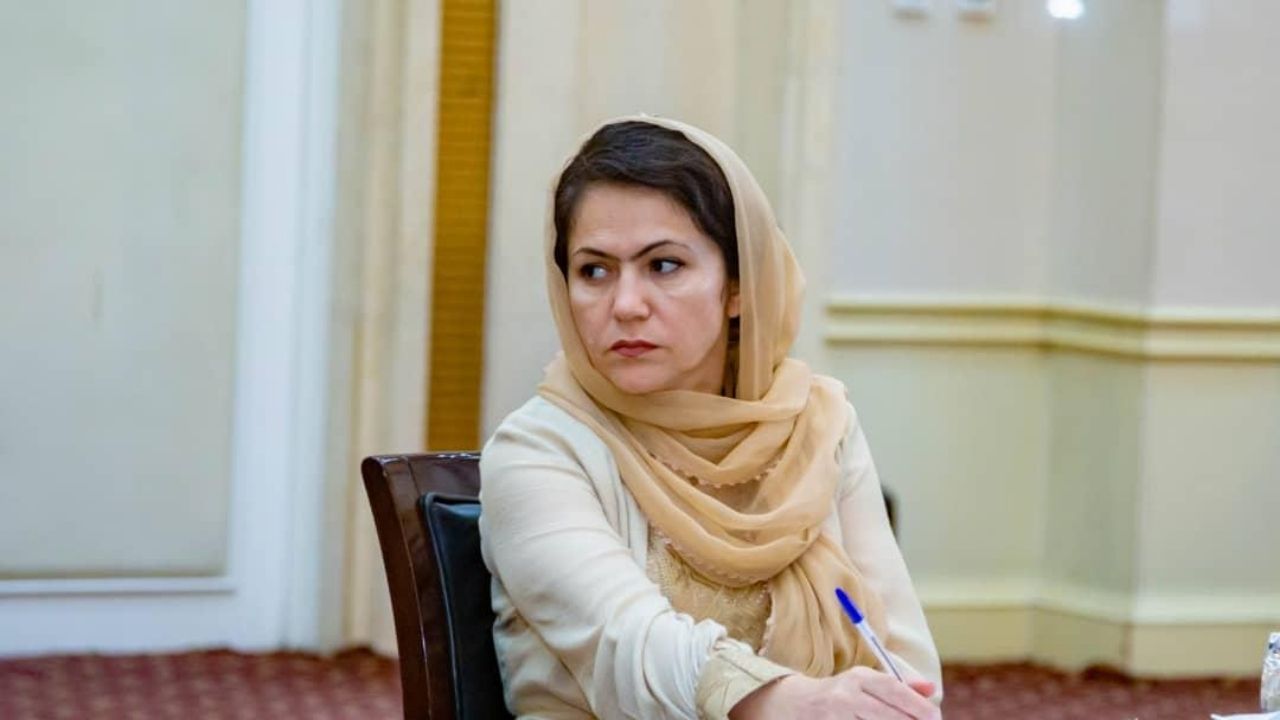 Photo courtesy: Fawzia Koofi
From confronting the Taliban and living in fear to now negotiating with the Taliban during the peace talks, how did that happen? How did you get on to the negotiating panel?
Globally, women are not assigned roles and professions that are not predefined by the society. Security is one such sector where involvement of women has not been very impressive. Security is regarded as a male zone, since it is men who are involved in war and combat.
In the last 40 years of war in Afghanistan, luckily women have not been involved in the destruction of the country. They have victims of it rather.  I shared my own experiences in the Taliban era because I thought that no other women should experience it. That encouraged me to get involved in the process.
It is important for women to be involved in the process else we will not be represented properly. We need to find our space in the negotiations, political process, and security talks.
I do not want  the future generation of women in Afghanistan to go through what my generation did during the civil war and the Taliban. I want to make sure that we are preserving the citizen's rights and making our voices heard. Secondly, we want to give peace a chance-an inclusive and long lasting peace needs all citizens to be involved. It is a question of the future of the country, so I got involved in the peace process.
Give us a glimpse of what went through in your mind sitting across the very set of people whose actions have personally affected you. How does one gather the courage to sit across the negotiating table with one's own oppressor?
It was not an easy process at all.  You have to go through a meditation process to prepare yourself. I went through several exercises in my mind to prepare myself, especially having experienced the violence and oppression first hand. All the aggressions by the Taliban that I experienced kept flashing through my mind repeatedly.
On the other hand,  sitting alongside the peace talks also gave me a sense of pride, purpose and equality. I think women in the world should enter that no-entry zone. They have to go and be involved in the process which traditionally does not involve them.
What was the reaction of the Taliban men about having to talk to a woman given that they did not want any women to be seen in public places? Can you share some anecdotes that come to your mind during the entire negotiation process.
Sometimes, you know that you are taking a big risk but you still want to do it because this is the last chance there is for a lasting peace.
We have had 3 rounds of dialogues we had with the Taliban till now, two in Moscow and one in Qatar.  There were just 2 women, me and Laila Jafari, of the 60 men at the negotiating table.
At first, I was confused about going to Moscow to talk to the Taliban in 2019. I went because it was  important for the diversity of Afghanistan needed to be represented.Even while sitting in the hotel room in Moscow, I was in a conflict. Suddenly, my voice said ' If you do not have the courage to face the Taliban then why are you here?' I immediately woke up, dressed up and went for the meeting. At the lobby, the international media was in full force and cameras focused on me.  They wanted to see what the reaction of a woman was. I was not prepared. I wore sandals. I came back to my room, dressed up in formals and wore my shoes to face the media glare.
Describe the scenes inside the negotiating room with the Taliban for us
When I reached the small room where the representatives of the Taliban and Islamic Republic were in talks, the front tables were full.  So I really had to take the backseat.
I took the chair at the back but slowly tried to push my chair through all these men to the front table. When they saw me wading through, they all started to move their seats so that I could get my chair to the front. We had people among our delegation with a beard, turban and their outlook was the same.
I started looking at these people for one or two seconds probably. A lot of things I  experienced during the Taliban regime came flashing by. Then, I told myself, 'No Miss Koofi.  You are here to prove yourself. You are representing the women of Afghanistan. You have to get something out and start a revolution in these people's minds.'
In such talks, everything is kept secret until the negotiations begin. I just wanted to make my presence felt. So, I raised my hand and started introducing myself and gave initial remarks which focused on the expectations from this process.  I said, 'We should not disappoint the people of Afghanistan who have placed a lot of trust and faith in us. We have to be flexible'. The agenda behind was to tell everyone that I am here too behind the negotiation table.
What did the rest of your speech or intervention focus on?
The main session was a big conference with a lot of media. The main leaders from both sides gave a speech and then I said that I wanted to speak too. I did not prepare in advance. The main summary of my speech was that Afghanistan is diverse and is unwilling to go back. Any girl or woman born just after  the Taliban,  has grown up with opportunities of democracy, participation, and technology. You cannot really push this Afghanistan back. We have to respect diversity. This is the basic message I wanted to give to the Taliban.
Most press conferences will have men who wanted to come and read the statement. So I jumped in, trying to find my way because it was not easy. As a woman, to make myself visible was really a fight. Sometimes we really have to fight hard to make ourselves visible. Giving up is not a way I think.
Inshallah to that. What was the reaction of the men of the Taliban? Were they expecting any women at all? How did they deal with a set of people that they never saw as their equals?
I think the list of participants was shared with them at the last minute. They had not prepared anything against women knowing that there will be no women in the delegation. As there was international media presence, the Taliban tried to demonstrate that it is okay for them. I think they were kind of put in the spot by meeting me and my other sister from Afghanistan. However, they tried to exercise restraint.
In the current negotiation team, we have four women who will be negotiating the major issues with the Taliban. It is not just women's rights but all issues that matter for the future of the country that we will be talking about.  I think the Taliban is preparing to face a new Afghanistan.
What is your agenda for Afghanistan? What are the critical issues that you want to negotiate with the Taliban in future negotiations?
Our government keeps on narrating that we want to have an Afghanistan which is at peace within and with our neighbours. We want an Afghanistan that is united and sovereign.  Everyone will have a chance to vote and where one person will have one vote regardless of their gender and political beliefs . We want an Afghanistan that represents everyone equally regardless of their gender. That is an Afghanistan we strive for.
Now if we go into the details of what this big narrative is, my initial focus is to preserve human rights for the women of Afghanistan. How much more shall we pay? Our human development indicators are one of the worst in terms of infant mortality, literacy rate, and access to economic resources. We need to negotiate women's rights and human rights as one. You cannot have freedom of speech and media while ignoring 55% of the society. You cannot talk about rule of law in a society where women are disregarded. In this case, you cannot have laws bypass them and say that we are a society where rule of law is protected.
I think women and human rights should be integrated and this should be the responsibility of the negotiation team in particular and the Afghan leadership in general. We should preserve and keep whatever women have achieved in the post Taliban regime and move forward to a better Afghanistan where everyone will have the same rights. That's what we are working on. My strategy would be to look at women's rights within the bigger picture of the economic development of the country.
[This is the first part of the interview with Fawzia Koofi. In part two, she talks about the challenges for women in politics in Afghanistan and how politics can become a safer space for aspiring women.]
[ Additional inputs from Simran Kaur, Prarthana Puthran and Kashish Babbar.]
Support BehanBox
We believe everyone deserves equal access to accurate news. Support from our readers enables us to keep our journalism open and free for everyone, all over the world.