Rising Caesarean Births Increase Inequity For Women Among Different Social Groups
Caesarean births are on the rise in  almost all Indian states, according to latest available data from the National Family Health Survey (NFHS-5). In the southern state of Telangana, 60% of all births are caesarean deliveries. Most of the births by C-section surgeries take place in private hospitals in urban areas for upper caste, affluent and more educated women.
The World Health Organisation (WHO) said that while caesarean section births can effectively prevent maternal and perinatal mortality, it is hardly beneficial for women and children who do not require it. In fact, the international healthcare community has considered 10 % to 15 % as an ideal rate for  births by caesarean surgery. C-section deliveries higher than 10% are not associated with reductions in maternal and newborn mortality rates. Currently, 80% of the states in India have caesarean birth rates higher than 10 %. 
The National Family Health Survey (NFHS)-5, a representative survey, released its first phase of data with information for 22 states and UTs in December 2020. At Behanbox, we use  this data to understand and analyse the changes in caesarean section deliveries across regions. Since NFHS-5 is yet to provide us with data specific to caste, religion, income and schooling composition, we use data from the NFHS-4,  released in 2017, to understand the demographic patterns in caesarean births in India.
Increase In Caesarean Births 
86 % of states and UTs for which data has been released by NFHS-5, show an increase in caesarean child births from the previous survey in 2017. Ladakh saw twice the number of C-section births since 2017, with one-third of all current deliveries being caesarean births. Among the states, Sikkim saw the largest increase from 21% in 2017 to 33% today. 
Only Nagaland, Mizoram and Lakshadweep saw a  marginal decline in caesarean section deliveries.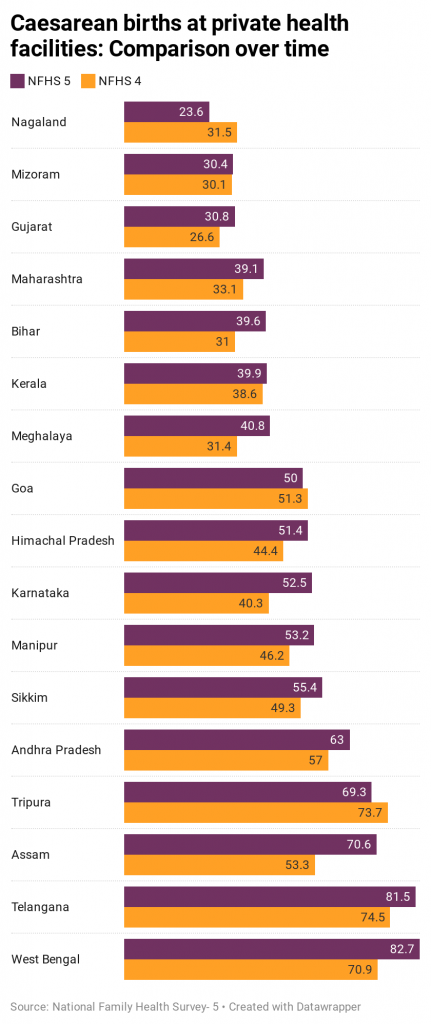 Telangana has the highest percentage of caesarean child births among all the states and UTs, where more than 60% of all the childbirths in the state occur through C-section. Other affluent southern states such as Andhra Pradesh, Kerala, and Karnataka too show a high percentage of caesarean births. 
One major implication of the increasing caesarean surgeries is the overuse of resources that could have been directed to other medically necessary areas or indeed in the availability of more equitable caesarean services. A 2012 study noted that "every year there is an additional need for 3.2 million caesarean sections in low income countries where 60% of the world's births occur while 6.2 million caesarean sections in excess are performed in middle and high incomes countries where only 37.5% of the births occur".
High caesarean surgeries, especially in affluent states,  suggest a conscious choice by economically well off urban women and coercion by private hospitals rather than a medical necessity. Many studies suggest that increased rates of caesarean deliveries, particularly medically unnecessary ones, can lead to an increase in maternal mortality rates and can have implications on the child's health, such as  permanent complications, disability and even death. 
The rise of caesarean surgeries increases the burden on the already weak health systems of developing countries with limited resources, due to the lack of facilities and capacities to properly conduct safe surgery and treat surgical complications. Moreover, the overuse of already limited resources for C-section surgeries in medically unnecessary cases, further shrinks the redistribution of medical resources in areas with a deficit.  For instance, states such as Bihar, Uttar Pradesh and Madhya Pradesh that show very low C-section rates indicate a higher maternal mortality rate, due to a deficit of medical resources that are required for medically necessary caesarean surgeries,  which increases the risk of birth deliveries.
C-Sections Higher Among Younger, Educated Urban Women
In 90% of the states and UTs, caesarean sections are more likely to occur in the urban regions. The rural-urban divide is highest in the north-eastern states of India. Caesarean births in urban Meghalaya are more than three times than the rural areas. While nearly half of urban Tripura's child births are C-section surgeries, only 18.6% of mothers in rural Tripura experienced a caesarean birth. In Assam, 40% of urban women undergo caesarean compared to 16% of rural women.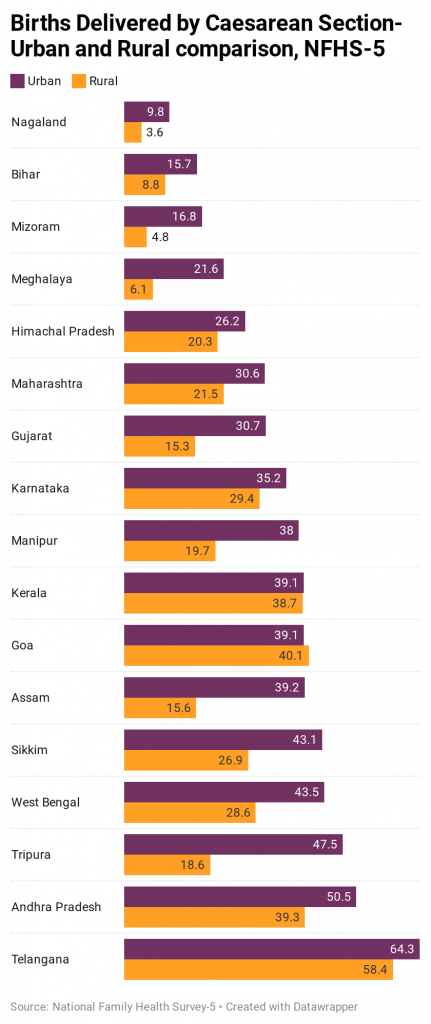 In contrast, in affluent states such as Telangana, Kerala and Goa which have high rates of caesarean births, the urban- rural gap is marginal. 
The gaping difference in the rural and urban rates of caesarean child births in India suggest an unequal distribution of health facilities as well as a greater agency and choice of urban women in India.
Several demographic and socio-economic factors evidently influence the prevalence of caesarean deliveries. More younger women (20 to 34) gave birth through caesarean surgery according to data from the previous round of NFHS-4 in 2017. Interestingly, 25% of all first born children were delivered through caesarean surgeries. 
33.6 % of the women who completed 12 or more years of schooling were likely to undergo C-section, while only 6 % of women with no schooling gave birth through caesarean delivery.  This could imply that more educated women were able to exercise increased choice and afford C-section births. 
More  Upper Caste and Affluent Women Had C-Section Births 
Caesarean births were the highest among upper caste women. 25 % of upper caste women had C-section deliveries according to the 2017 NFHS data. In contrast, only 8.3 % Scheduled Tribe and 14.5 % Scheduled castes women had births by  C-section.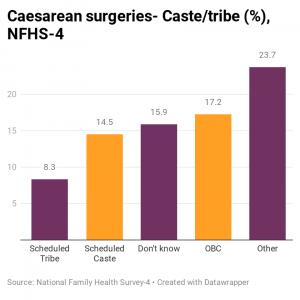 The NFHS-4 data also indicates a significant rise in caesarean births with increasing income. Nearly 36% of the women from the highest wealth index gave birth through C-section, compared to 4.4% of the poorest mothers. Such surgeries were the highest among Jain women and lowest among Muslims.
Higher levels of education, income and the social capital of upper caste women gives them easy access to and affordability of caesarean deliveries. Urban women, on an average spend Rs.11,000 on institutional delivery in any health facility (public, private, or NGO), while rural women spend Rs 6,500. This includes transportation, the hospital stay, tests, medicines, and other costs. 
More educated women spent four times more than those with less years of education. Upper caste women, on average, spent Rs 10,500 while women from the Scheduled Tribes spent Rs 4,700.
Private Sector Push For C-Section Births
66% of the States and UTs saw an increase in the percentage of caesarean births at private health facilities as compared to 2017. 83% of the caesarean deliveries of West Bengal are performed in private hospitals, while half of that number are performed in government hospitals. In Bihar, the percentage of caesarean births in private health facilities (39.6) is currently almost ten times as much as caesarean surgeries in government-run hospitals (3.6).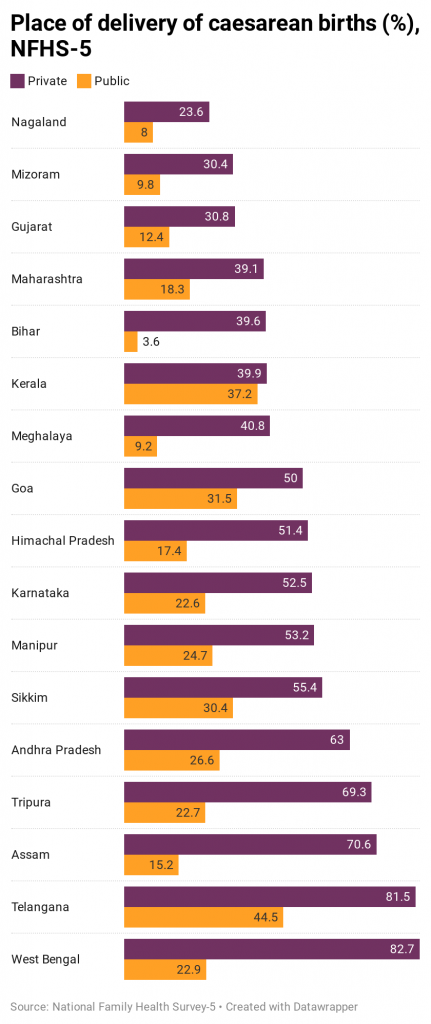 Assam saw the largest increase from 54 % of C-section births occurring in private hospitals in 2017 to 71 % in 2021.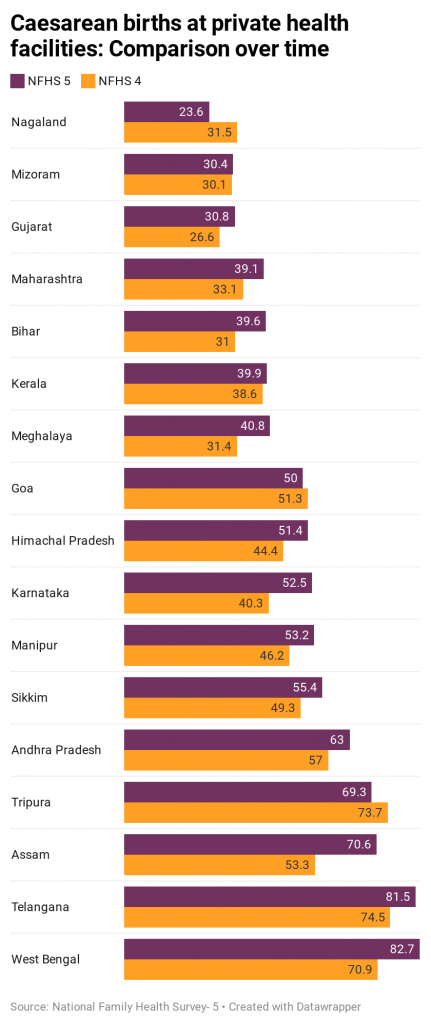 The average cost of institutional deliveries in private hospitals is five times that of public health facilities. The profit making opportunities of private hospitals and the coercion on mothers to opt for caesarean deliveries explains the overuse of surgical child births in urban private health facilities. Moreover, the recovery of C-section births takes longer, thus adding to the expenses of the delivery, which is further lucrative to private hospitals. Several other non-medical reasons influence educated and wealthy women to opt for C-section births. Caesarean child births are viewed as a more convenient alternative to excruciating pain during vaginal births. Some other possible reasons are concerns about genital modifications after vaginal delivery, misconception that caesarean is safer for the child, lower tolerance for complications, and opting for deliveries on specific days and times. 
While C-section surgeries for medically indicated reasons can possibly reduce maternal and newborn mortality rates, and long-term health complications, the alarming rise of such deliveries for non-medical reasons have health consequences on women and children while also increase inequity and disparities, especially in developing countries
Support BehanBox
We believe everyone deserves equal access to accurate news. Support from our readers enables us to keep our journalism open and free for everyone, all over the world.