Dalit And Adivasi Women Leaders Secure Community Rights
Surbhi Mahajan
August 25, 2020
Surta Bairwa (33), the former Dalit Sarpanch of  Srirampura Panchayat in Rajasthan's Tonk district had enough of the centuries old dominance of the upper caste Gurjars. The Gurjar community had encroached upon hand pumps and water tanks meant for common use of the village leaving the Dalit Valmiki community without access to water.
"I took it upon myself to break this pattern and work to protect and promote the concerns and issues of the marginalised communities. I also want to ensure that women's needs are not neglected any longer", Surta said.
At first, Surta and the other ward members approached the powerful members of the Gurjar community to negotiate  on sharing the common sources of water.
"When they refused to listen to our demands, I took the matter to the officials at the block level. We finally filed a complaint and with the help of police, we were able to bring justice and restore the hand pumps for the Valmiki people", Surta told us.
Surta Bairwa is one of the many Dalit and Adivasi women Panchayat leaders across India, who are using their elected office in Gram Panchayats ( lowest tier in  India's three tier local governance system) to access a host of rights that have remained out of reach thus far for themselves and their communities. It has also led to a greater consciousness among women from the marginalised communities on the importance of their political participation.
In 1992, India enacted the 73rd and 74th Amendments to its Constitution, reserving a third of seats for women in rural and urban local bodies to ensure greater representation for women in general and other excluded groups in particular, such as scheduled castes and scheduled tribes. In many states, 50% of the seats are now reserved for women.
"This reservation has ensured the representation of marginalised social groups, and given women like me an entry point into a space which is highly patriarchal and occupied predominantly by men from dominant castes" says Shanti Lata, a Scheduled Caste ward member from Baladiyabandha Panchayat in Dhenkanal District of Odisha.
In this two part essay, we examine how Dalit and Adivasi elected women representatives are claiming their right to political participation in Gram Panchayats .
In part 1, we bring you stories of four  women Sarpanchs (Elected representatives of Gram Panchayats)  from Rajasthan between 2015-2020, who used their elected  public office to secure rights, entitlements, social justice, and development for excluded social groups.
In part 2 , we examine how women leaders from marginalised Dalit and Adivasi communities have been carving their own political spaces despite the violence and backlash they face due to their gender, caste and religion.
Meera Kumari's Quest for Equitable Access To Water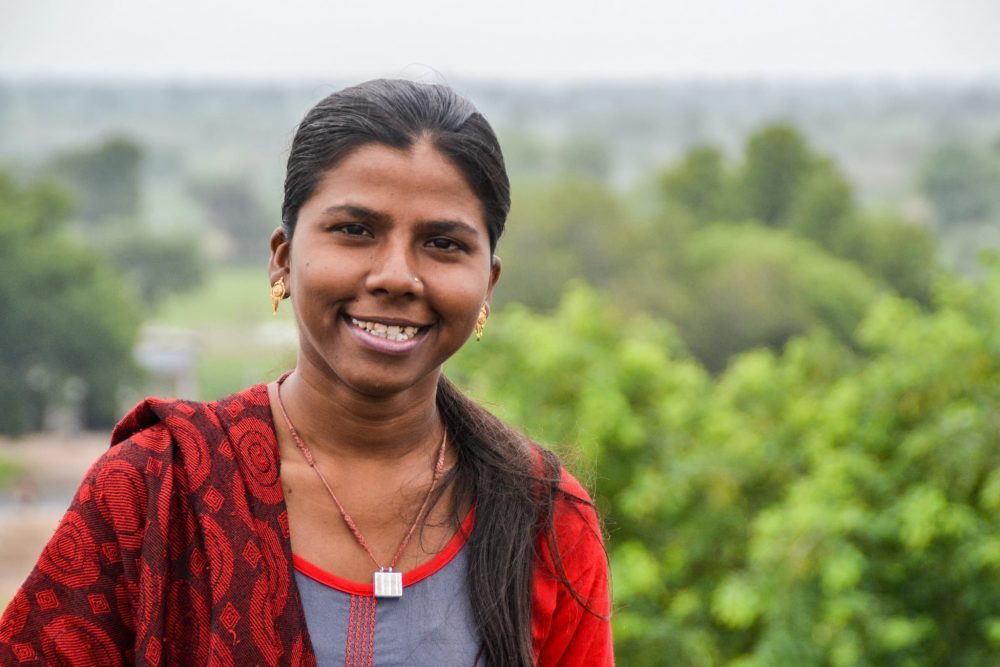 Meera Kumari, the Bhil Adivasi Sarpanch of Bhimana Panchayat in Sirohi district, Rajasthan. Photo Credit: Surbhi Mahajan
Meera Kumari (25),  a Bhil Adivasi, is the former  Sarpanch from Bhimana Panchayat  in Sirohi district in Rajasthan. As in Surta Bhairwa's panchayat, caste discrimination and complex caste equation has often left many excluded from accessing essential public goods like water for the Adivasis and the backward caste Jogis in her Panchayat.
"I had to mediate through the age-old caste politics between Jogis (Other Backward Classes) and Naths (dominant caste) for access to water. I declared  that water is a public good and must be shared equally by all", she said.
She instructed the vice president and other ward members to closely monitor the access and ensure that the Jogis had access to the hand-pump which was until now solely controlled by one community.
For Meera, "politics" is not a bad word even though many people often find women's entry into politics as distasteful.
"Politics is as bad as the leader behind it. If good and honest intentions inform the leadership thinking, then everything is doable despite the hurdles", says Meera Kumari.
Somi Devi Redefines Local  Priorities
Somi Devi, former Sarpanch, Basantgarh Village Council, Sirohi District, Rajasthan. Photo credit: Amrita Haldipur
Basantgarh, a panchayat in a predominantly tribal  Panchayat in Sirohi district of Rajasthan, had never elected a woman representative from a marginalised community.
In 2015, Somi Devi (35), an Adivasi from the Garasiya tribe decided to contest the panchayat elections when the seat was reserved for women. Caste dynamics have been complex and tense, given the  control of the Jats- the dominant caste in the village. In spite of facing tremendous resistance from her husband and others in the village, who feared resistance from the Jats, she stood firm.
With the help of all the young girls who she had taught as a teacher, she embarked upon a door to door campaign to canvas  for the panchayat election.
"I would see man after man from the upper caste occupying these important offices. They were only interested in putting on an act and gloating. You would see on paper, for instance, that a road is constructed, but it did not exist in reality. No actual work was ever done, which kept the panchayat resource poor and backward", said Somi Devi
After she assumed office, Somi helped improve access to electricity for over 600 tribal families in the panchayat. But it was a difficult path laced with multiple negotiations . First, she had to get a  "no objection certificate" from the forest department. Following this, she had to get permission and funds to install 20-22 poles and transformers for a steady supply of electricity under the Deen Dayal Upadhyay Scheme , a Government of India scheme to electrify rural households, in her entire constituency.
Somi Devi solved the drinking water problem by installing 15 hand pumps that benefitted 400 households. She helped more than 300 people to access jobs under the Mahatma Gandhi National Rural Employment Guarantee Act (MGNREGA) .
"The administration told us that MGNREGA was no longer active as there was no work available. The federation members got together, went to the block development officer and demanded urgent action on reactivating the scheme", she said.
She ensured people in the villages were receiving benefits under the rural employment guarantee scheme, one of the largest anti-poverty programmes in the world.
Basanti's Efforts to Keep Girls in School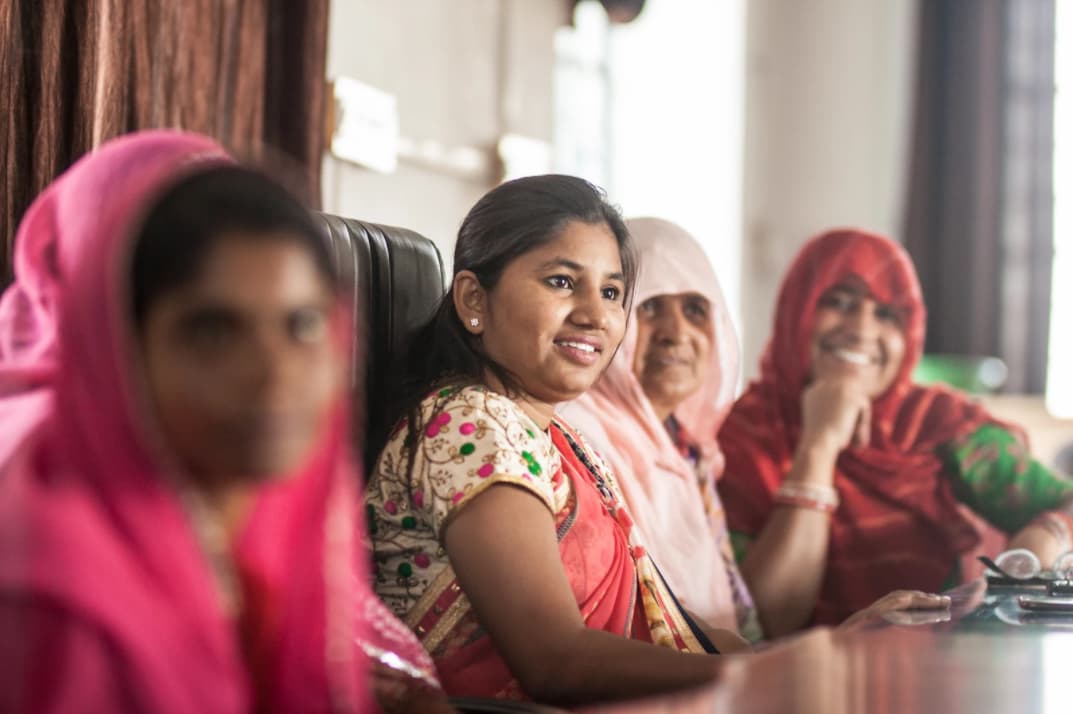 Basanti Gameti (centre), President, Kaliwas Village Council, Rajsamand District. Photo Credit: Amrita Haldipur
For Basanti (26), the former Adivasi Sarpanch of Kaliwas Panchayat in Khamnor district of Rajasthan,  education has always been an important priority during her time in office. Hailing from the Gameti community- one of the most disadvantaged scheduled tribe communities in Rajasthan, she is one of the growing cadre of young and relatively well educated women leaders with a masters degree in commerce.
Kaliwas, her Panchayat in a predominanyly Adivasi belt, had a high drop-out rate for girls from school due to increasing domestic responsibilities like grazing goats and caring for younger siblings.
Basanti has tried hard to address the issue of keeping girls in school. She  boosted education in anganwadis (crèche), which are the first formal learning centres for a child. She   got more than 10 girls enrolled in the  Kasturba Gandhi Girls' Hostel – a free residential  secondary school for girls from marginalised communities- in the neighbouring Nedach village.
Additionally, she made efforts to upgrade the school in her village to senior secondary level and build a playground to encourage physical exercise. She also built a  residential hostel for girls in her own village of Kaliwas.
"When a corporate group interested in setting up a hospital on the panchayat land approached with a request for "No Objection Certificate",  I  negotiated that they must fulfill 5 conditions including adoption of 8 schools, providing computers for students and free medical service to all citizens in the village. They agreed", says Basanti.
When Basanti first decided to contest the gram panchayat  elections, she was fully aware of the challenges that lay ahead. As an Adivasi woman, she had to negotiate the triple oppression of gender, caste and class.
For her, being in the elected office was both an assertion of her right to equal political representation and participation as well as redefining the development narrative from the lens of the most marginalised communities.
[ Surbhi Mahajan is the Senior Communications Officer at The Hunger Project, India. She has an MA in Development Studies from the Institute of Development Studies (University of Sussex), and an M.Phil/MA from Jawaharlal Nehru University (New Delhi) in Modern History. ]
This series is produced in partnership with The Hunger Project, India. THP India is a non-profit organisation committed towards bolstering elected women's leadership in decision-making processes in local governance. It currently works in six states – Bihar, Karnataka, Madhya Pradesh, Odisha, Rajasthan, and Uttarakhand.
Support BehanBox
We believe everyone deserves equal access to accurate news. Support from our readers enables us to keep our journalism open and free for everyone, all over the world.