COVID-19 : Adivasi and Forest Dwelling Women Face The Brunt
Aditi Pinto and Sanghamitra Dubey
June 25, 2020
Socio-cultural values and norms have traditionally excluded women from participation in community decision making fora and denied them equal inheritance and property rights, both under formal and customary laws. The Forest Rights Act 2006 is among the few progressive laws which attempt to undo this historical injustice by mainstreaming gender equality in the recognition of forest rights.
These are testimonies of women of Adivasi and Particularly Vulnerable Tribal Group (PVTG), Traditional Forest Dwellers and Pastoral communities of the impact of lockdown on their lives and livelihood.
Some of these women reside within forests where they have tenurial security, others are resisting harassment and eviction. Some do not survive to tell their story.
Some live in Protected Areas, while others labour in the city. Some are responsible for their entire families while others are single women battling survival on their own. These are experiences of  women- of struggle and of hope- as members of Minor Forest Produce cooperatives, as leaders in their Gram Sabhas and Forest Protection Committees.
For women in every sphere of life, the lockdown has had an impact in many specific ways- food insecurity and nutrition issues, low minor forest produce collection and sales due to lack of mobility, markets and climate change, forest diversion and plantations on lands which women have cared for and are dependent on. There has been an increase in gender based violence and bonded-labour for women migrant workers- all in the absence of just livelihood options.
In Gram Sabhas where women are recognised as rights-holders, equal participants or leaders, the resultant of greater security, sovereignty and health for forest communities and the environment becomes evident from the testimonies.
These testimonies were first published in "COVID19 & Forest Rights  Bulletin: The impact of COVID 19 and Lockdown on Adivasi and Forest Dwelling Communities".
This is Part 2 of the stories of Adivasi, pastoralist and forest dwelling women from across India whose lives have been impacted by the Covid-19 pandemic. In this part we bring you stories from Uttar Pradesh, Odisha, Chhattisgarh, Himachal Pradesh and Jharkhand.
Sahvaniya,  Tharu Adivasi Mazdoor Kisan Manch Dudhwa National  Park, Uttar Pradesh 
I am Sahvaniya from Surma village and a part of Tharu Adivasi Mahila Mazdoor Kisan Manch. Our sangathan has been fighting for generations: first against eviction of two villages from the core area of Dudhwa National Park, later for revenue status and now for Community Forest Rights, which has been further delayed by the lockdown.
Ever since the lockdown was announced, people have not been able to go to the forest.  The forest guards are harassing them and extracting  money from people who go to collect firewood.
Since the Order for Protected Areas came into force on 6 April 2020, the forest guards are also not allowing  people to go into the forest claiming that human-animal infection spread is possible.
While people are sustaining on foods grown on the lands close to the village, mainly wheat and vegetables, they cannot access the forests.
In Kajaria village, people have been cultivating for a long time, and recently the forest department dug a deep trench around the village preventing people from entering the forest. Not only is it impossible to access the forest but also there is danger of flooding on the lands there.
The FD is now claiming that it is their land, although they refuse to show maps displaying the same.
In Surma, the village pradhan is taking advantage of the lockdown and not allowing people to organise. The sangathan is also finding it hard to meet although we know that if we do not organise together, it is hard to put pressure on authorities.
GAUTOBAI's Story
An  Elderly Gond Adivasi Single  Woman In Rajnandgaon, Chhattisgarh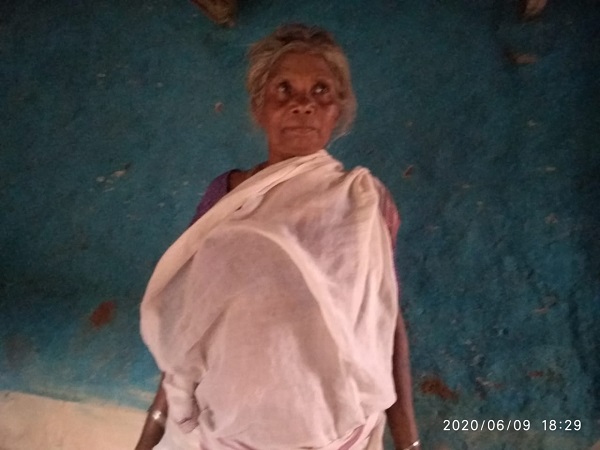 [Photo: GautoBai, a Gond Adivasi woman from Chhattisgarh.
Photo courtesy: SHRISHTI, Chhattisgarh]
Gautobai, a 62 year old Gond woman lives alone in Madhopur village, Rajnandgaon district of Chhattisgarh. Her sons are married and do not take care of her. She was left with 90 dismil of non-irrigated land, and therefore she has to depend on rainfall for her agriculture.
She sells half of her harvests to other villagers, however this does not bring her enough money to live. The last time she received her pension was in 2019.
While the government records show that she has received pension, she all she got was only  5 kg rice per month. During lockdown, she has neither received any ration, nor could she collect even firewood from the forests.
She also did not receive a gas cylinder under the government scheme. While at other times she would have made- do with self consumption and sale of Minor Forest Produce from the forest, restrictions on movement and lack of markets during lockdown meant that this single woman was very vulnerable and on the brink of starvation during lockdown.
Delayed Justice for Late Dama Devi
Dalit Woman from Himachal Pradesh
Dama Devi (52) was a resident of Tikkri revenue village, Sairi panchayat of Mandi district.
Almost a year ago, on 26 July 2019, Dama Devi died. A fact-finding team that visited her village found that earlier on that same day, Dama Devi had gone to fill water, when 6 forest department officials showed up in their khaki uniforms, without any prior notice, and threatened to take over her "occupied" lands.
Dama Devi's family had only 3 bisvas of land, and would cultivate and use 1-2 bighas of neighbouring forest lands in order to survive. She never had any legal recognition or title of these lands. Her family had tiffs with other families in the village, who have used forest lands to build a temple. In fact, most families in the village were using some of the forest lands for their sustenance.
On 26 July 2019, Dama Devi was affected by shock due to the sudden harassment of the forest department in front of the entire village. She cried and said that her family was dependent on the forest land. Later, as Dama Devi fainted,  the forest officials left her unattended and moved on from the village. After that, she passed away.
While her family filed an FIR under the SC/ST Prevention of Atrocities Act that very night, it was officially accepted only on 28 August 2019. They asked for the 6 forest department officials as well as some of the neighbouring families who were constantly fighting with them to be held responsible for her death. The family of Dama Devi have been awaiting justice for close to a year.
The court case was scheduled for March 2020, however was postponed due to the lockdown.
Adivasi Women Migrant Workers From Jharkhand facing Gender Based Violence
Bangalore
Two Adivasi women migrant workers, mothers in their early twenties, managed to escape from a bonded labour set-up where the contractor only paid them Rs. 1200 for 7 months of work and one of them was even raped.
Elina Horo, of Adivasi Women's Network in Jharkhand in an article in The Wire, said "Due to the nationwide lockdown, we are unable to find out how many more Adivasi women are themselves in a similar situation in different parts of the country.
"Human trafficking of Adivasi women and girls from the state is not new but this kind of horrific incident should force the government and its agencies to take urgent action against the routine exploitation of Adivasi women for strengthening women's safety at work place and labour laws.", she writes
"The state government of Jharkhand must ensure that they maintain a detailed record of all the migrant workers proactively and register them in welfare boards and ensure that adequate social security is extended to them", says Horo.
She further stated that special provisions must be made for migrant women workers.
Janha Pradhan and the practice of Thengapalli forest protection
Nayagarh, Odisha
My name is Janha Pradhan. I am Kondh Adivasi and a member of the Women Led Forest Protection Committees or Thengapalli in Village Gunduribadi, Ranpur block, Nayagarh district.
We are 22 households in our village and we have been protecting our forests for over 40 years using the Thengapalli practice.
Everyday 4 women go to the forest patrolling in order to protect it. At nights, young boys take turns to do the same.
We are Adivasi. Forests are our life.
We collect Tunga, Korba from the forests and we need not buy vegetables such as brinjal and potato from the market. Our mothers-in law used to take care of the forests. As they grew old we took over their role. Our children will continue to patrol the forests in the future.
Forests give us everything- food, fruit, medicine, bamboo, wood . If we get hurt, we collect and grind herbs to make a paste and treat our wounds.
During the COVID 19 lockdown, although we didn't have any income due to lack of markets to sell our Minor Forest Produce, yet we had food, medicines and nutrition due to the forests. While our claims for forest rights are still pending, we know that the forests give us a great sense of security, therefore we will not give our forests to anyone. We will protect them day and night.
[ These stories are collected and compiled  by an independent group of researchers and advocates for forest rights. They can be contacted at vanadhikarmedia@gmail.com Republished with their permission with minor edits]
Support BehanBox
We believe everyone deserves equal access to accurate news. Support from our readers enables us to keep our journalism open and free for everyone, all over the world.