A "Resilience Fund" by women in coastal Odisha is Helping Them Cope With COVID-19: Story of Women of Penthakata Urban Slum in Puri
Parag Talankar
May 14, 2020
Satyavathi (48) has borne the brunt of disasters before and knows the heavy toll it takes on the lives and livelihoods of families. On 3 May 2019, when Cyclone Fani, a category 4 cyclone struck the coast of Odisha, her slum dwelling in Penthakata in the coastal town of Puri was razed to ground. The devastating cyclone made her realise the importance of community based coping strategies in the aftermath of any disaster.
So, Satyavathi along with 652 women from the Penthakata urban slum in Puri formed a Self Help Group (SHG) and started a Resilience Fund- a  community fund to tide over any such  crisis in future, before substantial help came about . 
Today, in time of the Covid-19 pandemic and the lockdown imposed by the government of India, this community fund has come to the rescue of women and their families.
" We are using our Resilience Fund to help with the basic necessities of the community. We are able to buy hand sanitizers, food and other needs for our children and others with this fund. ", she says.
Apart from food and sanitisers, the SHG members have also taken upon themselves to  clean the water passages to keep the community from getting infected.
Making of the Resilience Fund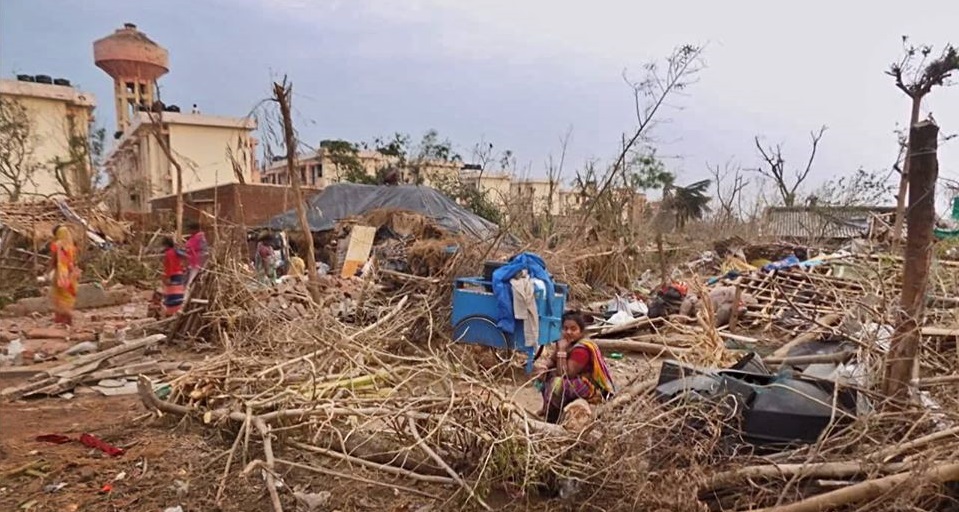 Devastation in the Penthakata urban slum after Cyclone Fani
Cyclone Fani, one of the rarest summer cyclones, flattened Puri and neighbouring areas as it made landfall. It was the first summer cyclone in 43 years to hit Odisha and only the third cyclone  in the last 150 years. In the last 19 years, Odisha has witnessed 6 droughts, 14 floods and 5 major cyclones. At least 6228 people have lost their lives due to disasters in the last three years alone .
The coastal slum of Penthakata in the heritage town of Puri , which is  home to a 45,000 migrant fishing community from the neighbouring state of Andhra Pradesh was hit hard. Houses were destroyed as was the health centre, health was affected and there was severe shortage of food and medicine.
Chauka Shivaji (25), a fisherman, one of the thousand who survived the devastating cyclone, recalls the day.
" Our houses were completely destroyed. I decided to send my family away to the shelters and I stayed back to protect my boats- my only source of income. I thought I would never be able to see my family again"
Cyclone Fani has left  people- children, women and the elderly- who saw houses and trees falling right in front of them severely traumatised. Such is the trauma that even today a slight rain creates fear among children who dread another cyclone.
As the cyclone receded and rebuilding efforts began, women of the migrant fishing community in the Penthakata urban slum decided to take matters into their own hands and think about emergency funding mechanisms situated within the community during such times. Thus, the resilience fund was born.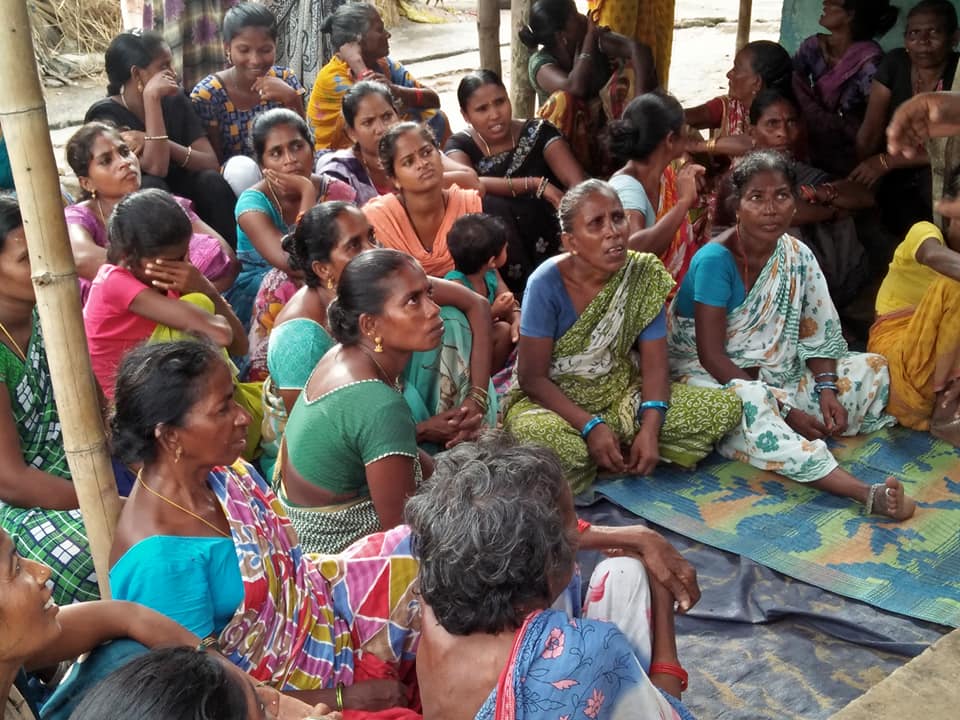 Women Volunteers of Penthakata urban slum
653 women belonging to 60 hamlets in Penthakata pooled in Rs 200 from the money they received as a relief package from the state government to start the fund. Within a fortnight, they had a quantum of 1,30,000 rupees. Since then, they contribute a  minimum of Rs 10 to create every month and build the fund with the support of SEEDS (Sustainable Environment and Ecological Development Society) and its a local non-government organisation partners, SPANDAN to rebuild their lives.
The ferocity of Cyclone Fani took them by surprise where they saw their children go hungry for days following the storm. This fund gives them the confidence that having money in an emergency fund keeps them secure. 
Women's collective  in Penthakata  coping during Covid-19
 Women face a disproportionate brunt of  disasters such as droughts, floods and cyclones. While disaster management strategies as well as preparedness do not adequately factor in gendered responses, strong self-help groups and collectives are showing the way. There is a lot of evidence from the ground that women headed households proved to be more resilient during the Cyclone – evidence that needs to be explored further in creating better response mechanisms. These are the households that are able to cope as Covid-19 pandemic affects the world.
 Aripilli Kasulamma ( 40) , a single woman and her 3 children were on the verge of hunger since the lockdown was announced. Her daily livelihood of selling dried fish in the local market was interrupted and she was left with no money or food.
" My son started crying out of hunger", she  said.
The SHG members came forward and provided them with cooked food for the next few days.
Their high level of risk awareness, social networking practices, extensive knowledge of their communities, managing natural environmental resources and caring abilities makes them important players of effective risk assessment, early warning, disaster response and recovery actions.
The thoughtfulness and foresightedness of women in the collective has now motivated others to voluntarily contribute for the resilience fund  to save the lives of many in this pandemic situation.  
[Parag Talankar is the Director Planning and Mobilisation, SEEDS (Sustainable Environment and Ecological Development Society)]
Support BehanBox
We believe everyone deserves equal access to accurate news. Support from our readers enables us to keep our journalism open and free for everyone, all over the world.